Last week, the IWC unveiled its latest creation, the Portuguese Rope Portugieser Tourbillon Edition 'D. H. Craig USA. This watch pays tribute to the founder of the IWC and its benefactor, combining a traditional whirlwind steering movement with a bold Portugieser case and a dial.
We thought it was worth a bit of fanfare, so we gathered about 100 guests at the IWC boutique badge on Madison Avenue to see the clock on the metal and toast with the IWC team. The guests were greeted by Edouard Arbaumont, President of the IWC North America, and his own editor Jack Forster offer a history lesson.
There was even an original movement of the nineteenth century D. H. Craig, thanks to the generosity of a collector who lent for the event. This year, IWC Schaffhausen celebrated the 75th anniversary of the Portugieser family clock. Its rich history reflects the development of the watch company based in Schaffhausen, a renowned international luxury watch brand.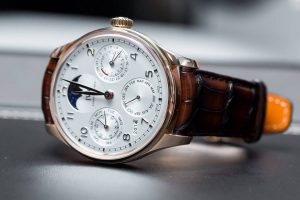 In the late 1930s, two Portuguese businessmen controlled watches with precision marine timers from the International Watch Co. at the time, the only way to provide the required accuracy was to use a large caliber pocket watch. That is why IWC watch manufacturers chose pocket watch movement of the Hunter Hunter 74, which fortunately crowns on the right side, and housed in a wristwatch box. AAA Best price IWC watches Report!